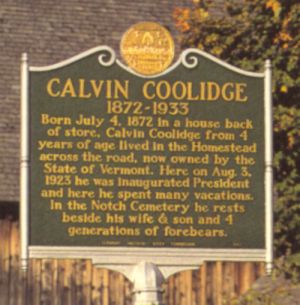 Coolidge acceded to the presidency after the death in office of Warren G. Harding. Coolidge was the only son of John
Calvin Coolidge and Victoria Moor Coolidge. His father, whose forebears had immigrated to America about 1630, was a storekeeper who instilled in his son the
New England Puritan virtues--honesty,
industry, thrift, taciturnity, and piety--while his mother cultivated in him a love of nature and books.
A graduate of Amherst College, Coolidge began
practicing law in 1897.
In 1905 he married Grace Anna Goodhue,
a teacher in the Clarke Institute for the Deaf,
with whom he had two sons.