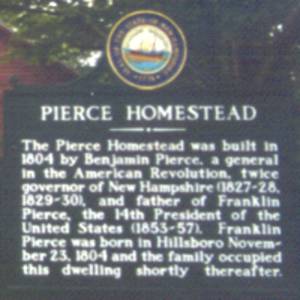 Pierce, after serving in the Mexican War, was proposed by New Hampshire friends for the Presidential nomination in 1852. At the Democratic Convention, the delegates agreed
upon a platform pledging support of the Compromise of 1850 and hostility to any efforts to agitate the slavery question. But they balloted 48 times and eliminated all the well-known candidates before nominating Pierce, a true "dark horse." Probably because the Democrats stood more firmly for the Compromise than the Whigs, and because Whig candidate Gen. Winfield Scott was suspect in the South, Pierce won with a narrow margin of popular votes. Two months before he took office, he and his wife saw their eleven-year-old son killed when their train was wrecked. Grief-stricken, Pierce entered the Presidency nervously exhausted.
- - - -
By pursuing the recommendations of southern advisers, Pierce--a New Englander--hoped to prevent still another outbreak of the 1850 storm. But his policies, far from preserving calm, hastened the disruption of the Union. By the end of his administration, Pierce could claim "a peaceful condition of things in Kansas." But, the Democrats refused to renominate him, turning to the less controversial Buchanan. Pierce returned to New Hampshire, leaving his successor to face the fury of the sectional whirlwind.